LegendII table plasma cutting machine Technical parameters
Type 
LEGEND Ⅱ
Cutting range
A: 1300mm *2500mm
B: 1500mm *3000mm
Machine size
A:2000mm(W)*3200mm (L)*1300mm(H)
B:2200mm(W)*3700mm (L)*1300mm(H)
Input voltage
220V/110V  
Power frequency 
50HZ/60HZ
Power 
1.0 KW
Cutting thickness
0.3-5mm(max:20mm)
Cutting speed
0~8000mm/min
Modes of cutting
Plasma  
Mode of longitudinal driver 
Dual Drive 
Processing material 
Carbon steel,stainless steel,copper alloy,nickel alloy,titanium alloy.etc
Work mode of plasma 
Non-contact ignition  
Z axis range
40mm
Controller 
LCD 7'' display 
LegendII Economical Table CNC Plasma Cutting Machine
-------Cut as 

thin

 as 0.3mm !
Advantages of Legend CNC cutting machine
Platen solution, avoids rust of the metal sheet and the cutting table;High Cutting Speed, High Cutting Precision and Low operative and maintenance Cost;
Rigid steel structure;
User friendly;
Small kerf, precise cutting, no cutting residue, no need of complementary reworking;Powerful, reliable, high quality CNC controller; accepts G and M code.
High quality and reliable cutting machine;
Compatible with the common cutting softwares such as ARTCUT, CAXA, ARTCAM, FastCAM;compatible with Lantek HVAC cutting software. Ideal machine for the duct business.
All DXF or DWG (as from AutoCAD, Solidworks) formated files can be adapted.

Product Description of LegendII table plasma cutting machine


SteelTailor is devoted to the economical sheet metal cutting solutions. It is credited to SteelTailor's effort that plasma machine can be applied in thin sheet metal cutting, as a laser machine does. In many cases SteelTailor Legend plasma cutting machines can perform the cutting of laser machines.

SteelTailorTM Legend plasma sheet metal cutting machine can cut almost all metal sheets, from mild steel , stainless steel, galvanized steel, copper. Aluminum. LegendII plasma cutting machine is an ideal machine for sign-making, sheet metal cutting, HVAC sheet metal cutting and other sectors where the sheet metal cutting does not request a precision above 0.5mm.

The platen makes the torch follow the sheet surface, avoids rust from water cooling. The parts obtained from cutting are clean. The cutting table has a longer life too. There is also no pollution concern about the cooling water.No water shroud, easier maintenance.Prebuilt exhaustion port.

The use of dual drive stepper motors and high precision guiding rails, racks and pinions make the machine able to cut at high speed and satisfactory precision.

The professional color screen CNC controller is more powerful in function and complete in cutting features. It is also more stable and reliable. The CNC controller can read G and M code. It is also compatible with Lantek HVAC cutting software. LegendII plasma cutting machine is a good choice for the duct business.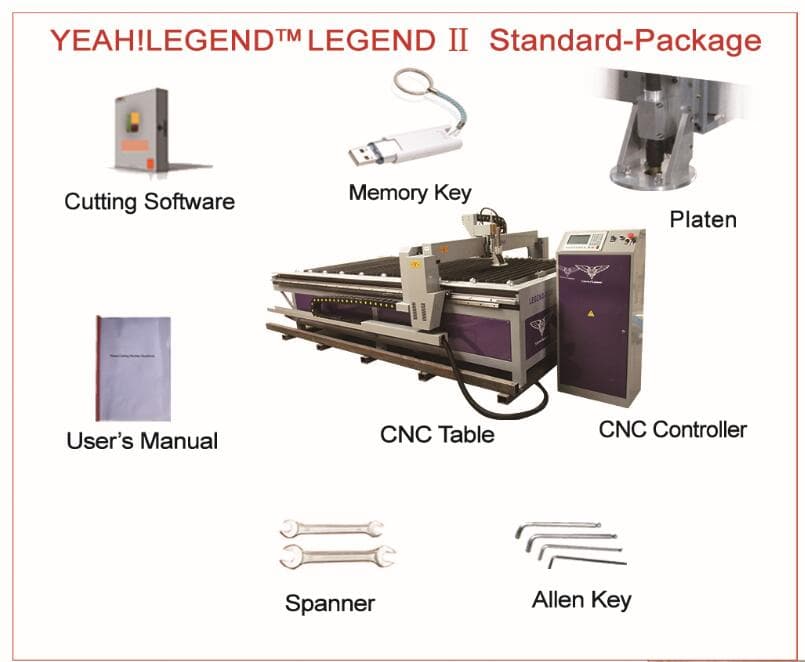 2 Year warranty for all SteelTailor products (For machines made after Jan 1 2012)