HiFocus 130 neo
 plasma cutter Plasma Cutting from 0.5 to 40 mm
neo: new – efficient – original
With HiFocus neo the user benefits from high speed when cutting and marking electrically conductive materials, ensuring at the same time excellent quality and low process costs. Thanks to optimised technology, the consumables are protected and the plasma cutting process is more efficient.
The high-precision unit HiFocus 130 neo achieves best results when marking and cutting materials with a thickness from 0.5 to 40 mm.
HiFocus 130 neo
 plasma cutter Application Areas
Metal construction and engineering
Steel service centres
Steel and hall construction
Plant and tank construction
Pipeline engineering
Shipbuilding
Commercial vehicle industry
Crane construction
Offshore constructions
Wind power plants
Cutting faster by 50 %
The patented Contour Cut technology stands for precision when cutting mild steel. Smal contours, narrow webs and above al smal holes with a hole diameter to material thickness ratio of 1:1 can be cut with Contour Cut in excel ent quality.Contour Cut Speed al ows the cutting of contours in similar quality with a speed that is up to 50 % higher.
HiFocus 130 neo
 plasma cutter Advantages
Suited for all common guiding systems as there are CNC-controlled guiding systems,pipe cutting machines or robots
High-quality reproducible cutting results due to automatic gas control unit
Long lifetime of consumables
Higher cutting speeds reduce the costs per cutting metre
Nearly dross-free cuts and therefore almost no rework required
Low perpendicularity and surface roughness
Components for flexible Use Cost-saving Torch Technique
The Kjellberg plasma torches of the PerCut series are equipped with a unique liquid cooling system which guarantees a long lifetime of the consumables, thus making it possible to achieve savings in the gas consumption. Furthermore, the quick change head reduces the times for changing the consumables. Due to their acute-angleddesign,difficult-to-acessareascanbe reached easily and bevel cuts with an angle of up to 50° are possible.
Robust Consumables
With the long-living consumables made by Kjellberg, changeover times can be reduced and the productivity of the cutting process increased. The previously offered range of consumables for cutting with oxygen is ex- panded by powerful copper cathodes which convince with a long lifetime and an excellent price-performance ratio.
Efficient Gas Supply

The adjustment and control of the plasma gases can be done manually or automatically. The automatic gas control unit FlowControl stores the adjusted values of the plasma gases and thus al ows a constantly high quality and reproducible cutting results.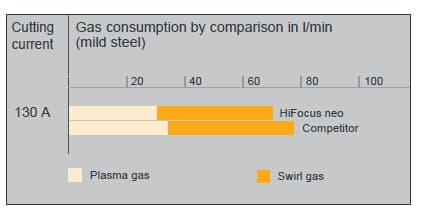 Cutting Speed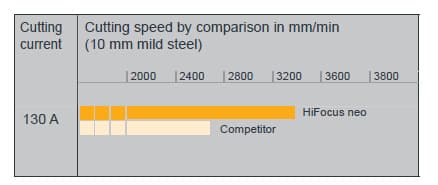 The units of the HiFocus neo series show a considerably higher cutting speed compared to competitive products. The results are narrow kerfs and thus fewer emissions and waste. The lower energy consumption and time expendi- ture resulting therefrom save the environment as well as the user's resources.
Cutting Ranges