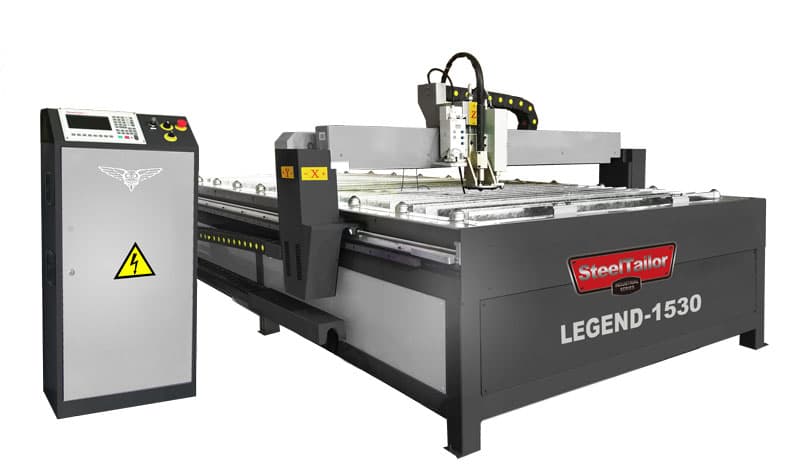 Yeah!LegendB5II is an economical CNC table plasma cutting and marking machine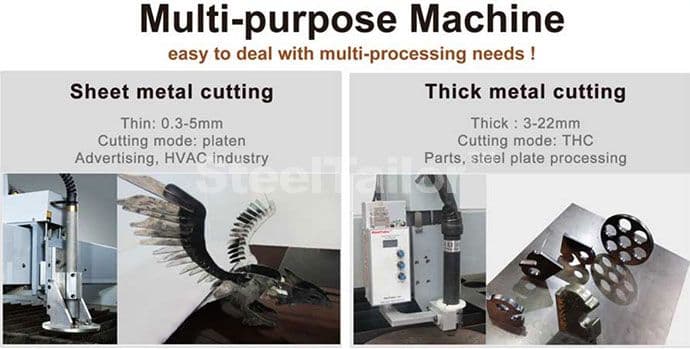 CNC table plasma cutting machine is an multi-purpose machine. It is very easy to deal with multi-processing needs!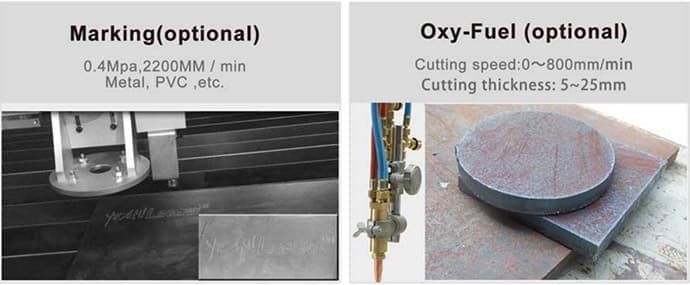 B5II CNC plasma cutting machine can marking metal and oxy-fuel cutting!

LEGEND B5II CNC cutting machine is an superior sheet metal cutting machine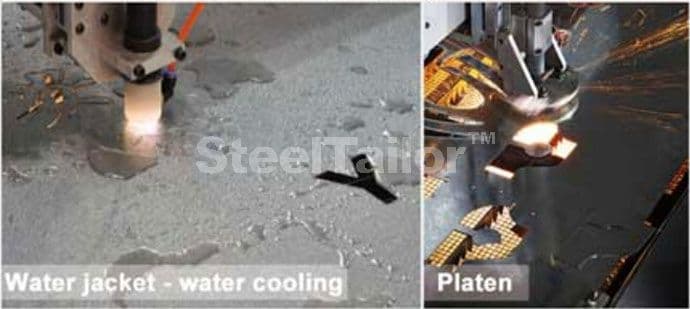 Comparison of two modes for sheet metal cutting
| | | |
| --- | --- | --- |
| Cutting mode | Water jacket | Platen |
| Adding components | Pump,water | Non |
| Advantage | Water cooling,less dust pollution,work piece without deformation | Platen makes steel more smooth,improving the cutting quality. |
| Disadvantage | Waste water might cause the cutting table rusty.Water jacket is a consumable | Not suitable for very small and complex work pice |


CNC marking-Adjustable depth line drawing


LEGENDB5II CNC marking machine is able to achieve high quality CNC marking function for hard materials to draw lines marking.Compare with the laser,the cost,marking format,process control,and marking depth of Legend B5II CNC 

table plasma cutting machine 

has a distinct advantage.




Marking depth adjustable functions to draw lines, the greater the pressure,the depper draw lines.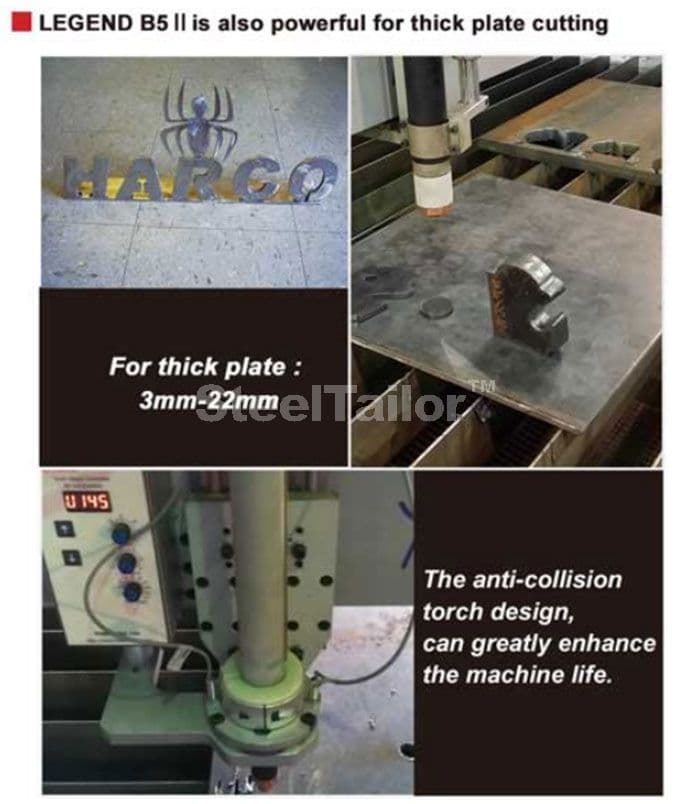 B5II table plasma cutting machine is also powerful for thick plate cutting!
Technical parameters
| | |
| --- | --- |
| Model | LEGENDB5II |
| Power supply | 110/220V 60/50Hz 1KW |
| Effective cutting area | 1.1300*2500:X axis 1300mm Y axis 2500mm;2.1500*3000:X axis 1500 Y axis:3000mm |
| Plasma cutting mode | Cutting speed:0-8000mm/min ,cutting thickness:0.3-22mm |
| Flame cutting mode(optional) | Cutting speed:0-800mm/min, cutting thickness:5-25mm |
| Z axis range | Platen/Water cooling cup: Cylinder max:50mm THC:Max 75mm |
| Max cutting current for plasma power | Current of plasma:<=120A |
| Work mode of plasma | Non-contact ignition |
| Marking speed | Recommend: 2200mm/min, 0.4Mpa |
| Marking precision | <=0.2mm/300mm |
| Processing material | Carbon steel,stainless steel,copper alloy, nickel alloy and titanium alloy |
| Longitudinal drive system | Dual drive step motor |
| Height control mode | Platen/water jacket/THC |
| Controller | LCD 7" display |
| Machine size | 1.1300*2500:2000mm(W)*3300mm(L)*1300(H)2.1500*3000:2200mm(W)*3800mm(L)*1300mm(H) |